Special Speaker today – Samantha Roach from Oklahoma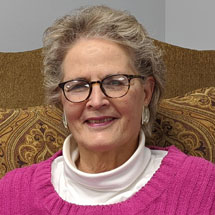 Samantha Roach was also born again at the age of 8, but was in and out of church as a child. Living a back slidden, promiscuous life, she married, divorced and remarried. Her 2nd marriage was to an alcoholic who physically and verbally abused her.
She often feared for her life and was told from time to time that he (her husband) could have her shot on the streets of San Francisco for a hundred bucks. Having become an alcoholic herself, she woke up in a bed with someone other than her husband, who was also out somewhere sleeping with someone…she took a good hard look at her life and realized how far from God she had come. She gave her life back to the Lord and asked him to "put within her whatever it took to serve him all the days of her life". That was in 1971 and God was faithful to her prayer even in the midst of intense persecution.
There came a day when her husband asked her for a divorce again and this time it was final. There was a catch however, she had to walk away from all that she had helped to build, close to a million dollars in real estate holdings. She walked away with nothing but the clothes on her back and her car. She moved to another state, changed her name at the prompting of the FBI and promised God that she would follow Him where-ever He led her.
That place turned out to be Oklahoma and Rhema Bible Training Center in Broken Arrow, Oklahoma. She graduated in 1982. Samantha traveled for a year and in 1983 went on staff with Rhema coordinating student activities.
The Lord began ministering to her that he had a husband for her. That surprised her. In her mind a 3rd marriage was out of the question. God had other plans. Through a storybook romance that only God could put together, she married her "knight in shining armor", Paul Roach. Besides being a pastor's wife and Associate Pastor, Samantha has a specific call and message to the United States. She travels border to border and coast to coast ministering a message of mercy, grace and restoration that was ministered to her. She holds her ordination papers through Rhema and her Bachelor of Theology degree through Christian Life School of Theology.
Child care is provided.
Open to all ladies.